What is Project Design Space?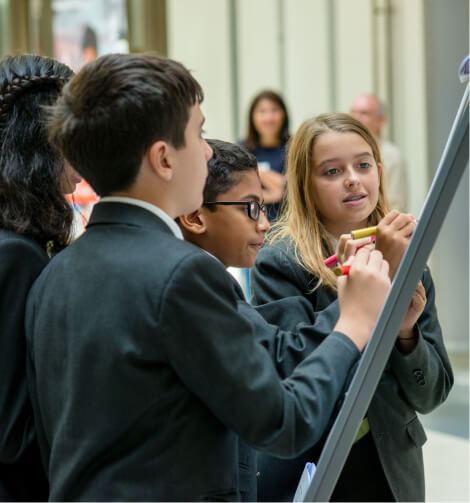 Project Design Space (PDS) is a design and innovation program for high school students and teachers in the GCC and around the world. DIDI launched this program to provide an opportunity for high school youth and educators to use design thinking methods to solve today's problems and create a better tomorrow.
What sets this program apart from other high school STEM and innovation programs is that it gives participants the unique opportunity to solve problems for real-life clients, including multinational corporations, government entities, and non-profit organizations.
Teachers learn how to teach design and innovation skills. Students learn design thinking, applied problem-solving, prototyping, teamwork and collaboration, pitching, and other soft skills.
How the Program Works
Over the course of 8 months, participating students, coached by their teacher sponsor, will discover and work on finding solutions based on a four-step design process: analysis, ideation, prototype creation, and then presentation and pitching.
The final steps of the process are the boot camp and final event, where the selected teams will pitch their prototyped solutions to a jury of clients, other professionals, DIDI professors, and experts.
To date, students have completed design challenges for international and regional organizations such as adidas, Alserkal Avenue, Dettol, Dubai Holding, Emirates Marine Environmental Group, Emirates Nature-WWF, LEGO, Nike, Splash, and more.
The program is for students in grades 9-12, aged between 14-18 years old.

How many students from my school can participate?

Any number of students can participate from your school. At most schools, 15-100 students participate.

After attending an orientation session in November, teachers kick off the program with their students. Students form teams and select a challenge to solve. Students have five months to work on their projects before submitting their solutions. The top eight teams from each challenge will be invited to a boot camp, where they will receive constructive feedback on their solutions from the DIDI Project Design Space team. These teams will then have one month to refine their solutions before pitching to a panel of judges at the finals' event.

What is the timeline for PDS?

The program runs from October to the end of May each year.

Who are the challenge partners this year?

We will be announcing the new challenge partners in November. Stay tuned!

Yes, PDS is entirely free for schools!

What if I have more questions?
Interested to sponsor
our next season?
Learn more about project design space client sponsorship.