A Pioneering Approach to
Studying Design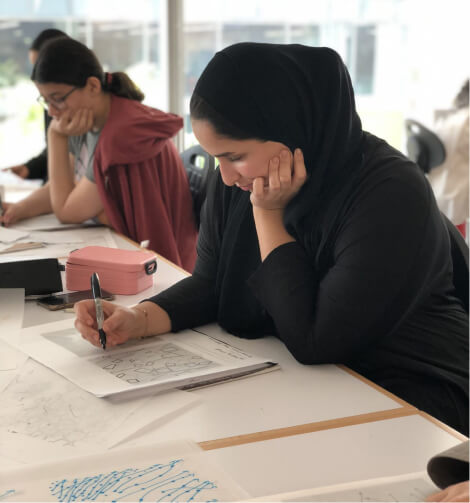 Pairing courses
Students enrolled in our cross-disciplinary degree combine two design disciplines, which prepares them for the ever-changing job market. As part of their studies at DIDI, students take a selection of studios, workshops, and lectures.
The first-year experience consists of the basics of the four disciplines we offer so that students understand their options. Under the academic advisor's guidance, students select the cross-disciplinary path that best suits their strengths, interests, and aspirations.
Students present an independent capstone project within their cross-disciplinary course at the Dubai Institute of Design and Innovation during the last year of study.
Product Design + Multimedia Design

Combining product and multimedia design allows students to design digital and interactive products from A to Z. In this program, students learn to design products, systems, and services that create ethical human-machine interactions and multisensory interfaces. Students also explore mixed-reality environments that promote cultural and social change through critical problem-solving and world-making.

Career opportunities: Interactive Experience Designer, Tangible Computing Interface Designer, Smart Environment / City Designer, Digital Product Director, Data Product Designer, Mixed-Reality Content Designer, IoT And Smart Objects Designer.

Product Design + Fashion Design

Pairing product and fashion design allows students to seamlessly bridge between fabrication techniques and designing for the human body. Through their education, students develop skills that help to critically analyze their social, environmental, and technological applications and implications.

Career opportunities: Material/Biomaterial Designer, Smart Textile Designer, Fashion Buyer, Wearables Designer.

Multimedia Design + Fashion Design

Combining multimedia and fashion design, students will be ready to work in the rising field of interactive textiles and intelligent clothing. In addition, students create mixed reality environments that augment the understanding of the human body in relation to the environment.

Career opportunities: Digital Fashion Stylist, 3D Digital Fashion Designer, Interactive Wearable Designer Digital Textile/Texture Designer.

Multimedia Design + Strategic Design Management

In this program, students combine strategic thinking and business skills and apply them to interactive and visual interface design. This can range from applying design management principles and analyzing current and emerging markets to designing data-driven user experiences for ethical human-machine solutions.

Career opportunities: Information Designer, Chief Design Officer, Chief Marketing Officer, UX Developer.

Fashion Design + Strategic Design Management

Combining fashion and strategy, students will learn how to create their own fashion business, while understanding the ethical and economic implications of their work. In the process, students develop the skill to challenge current practices towards establishing an innovative and sustainable fashion industry.

Career opportunities: Fashion Brand Manager, Fashion Entrepreneur, Ethnical Fashion Consultant, Fashion Brand Strategist, Sustainable Fashion Business Consultant.

Strategic Design Management + Product Design

Combining strategic and product design is a highly sought-after skill set, especially for entrepreneurs who wish to disrupt the current status quo. Students apply strategic design management principles to design products, systems and services as agents of social change.

Career opportunities: Product Design Manager, Chief Design Officer, Product Manager, Future Product Strategist.