Welcome to DIDI Project Design Space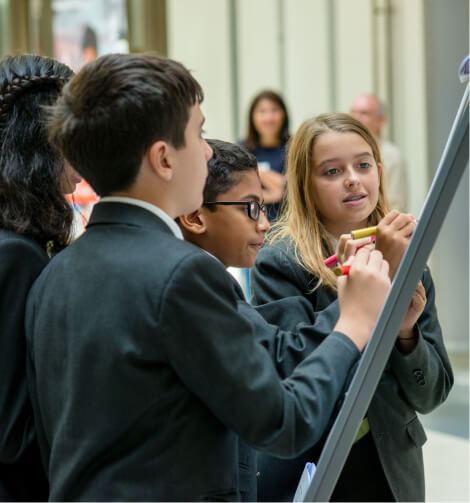 We are excited to be embarking on this journey with you. On this site you will find supplemental resources and information about DIDI Project Design Space and design in general.
Introduction to Project Design Space Video
Teacher Training Workshops

*Teachers are only required to attend one Program Orientation workshop.

**The How to Teach workshop series will be recorded for teachers who cannot attend the live sessions.

Student Design Jams with DIDI Faculty

15 April 2023: Submission Deadline (11:59pm)
1, 2, 3, 4 and 5 May 2023: Virtual Boot Camp* (4:00 – 6:30pm)
(COMING SOON): In-person Finals Events (3:30 – 6pm)

*The top eight teams per challenge will be invited to attend one Boot Camp and one Finals Event.

Final Video Submission COM

Information Packet for Finalists

Everything that Finalists need to know can be found in this information packet –

DIDI Project Design Space 2022 - Submission GuidelinesDeadline for Video Submission

All submissions are due by 15 April 2023 (11:59pm). Submit here

Finals Events Dates

Finals will take place at the Dubai Institute of Design and Innovation in Dubai, United Arab Emirates. International schools (outside the United Arab Emirates) will be able to participate via Live Telecast. Finalists will receive an invitation (with link) to the Live Telecast one week prior to the event.

Virtual Boot Camp: 1-8 May 2023
In-person Finals at DIDI: 3-4 June 2023
Schools around the world are incorporating design thinking into their curricula. Watch the videos below and notice the research, ideation and prototyping modes, as well as all the skills the teams use. In an integrated design process, creative modes are blended together seamlessly in the same space. Analysis flows into ideation and prototyping.

In the following video, designers conduct interviews as part of the design process. Notice how they ask "why" and other open-ended questions to gain an understanding of the experiences of the interviewee.

In the following videos, students engage in brainstorming sessions. Notice the way that the participants engage with one another's ideas and how their behavior leads to the generation of multiple ideas.

In 2010, Vanity Fair called architect Frank Gehry "the most important architect of our age." In this excerpt from a documentary about Gehry's work, Gehry can be seen using paper to build architectural prototypes.

In the following video, designer Tom Chi shares the Google team's process for prototyping Google Glass.

In the following video, students from Brown University and the Rhode Island School of Design build prototypes for a furniture design workshop.

The following video provides a succinct explanation and demonstration of how to use paper prototyping.

The following video shows how Google Ventures tests products through user interviews.

Eighteen-year-old Lani Lazzari successfully pitched her company, Simple Sugars, on the fourth season of the TV show Shark Tank. Lazzari's presentation serves as an excellent example of a powerful pitch. Despite being one of the youngest contestants ever to appear on the show, Lazzari delivers an unusually confident and compelling demo and pitch of her skin care product, Simple Sugars, to the Shark Tank investors.

At TEDGlobal 2009, founder of Lifesaver, Michael Pritchard, shared the story of his revolutionary product that provides people with access to safe drinking water. There is much to learn from his compelling demonstration and storytelling.

Misen Cookware founders pitch their idea for high-quality, beautifully-designed and affordable cookware to the Kickstarter community through a well-crafted video and informative website.

HP Challenge

Design a new HP LIFE course that encourages entrepreneurship amongst youth in the GCC region and propose a creative way to promote the course.

Hunter Foods Challenge

Design a potato chip product "without borders" that can be enjoyed all over the world with universally appealing flavors and one stand-out visual language.

Louvre Abu Dhabi Challenge

Design an intervention in one of the outdoor spaces at Louvre Abu Dhabi that engages youth with the museum's identity, narrative, architecture and collections.

Mubadala Health Challenge

Design an awareness campaign to encourage a greater number of the UAE and GCC populations to attend an annual physical check-up.

Schneider Electric Challenge

Design a smart home that harnesses the power of technology to enable sustainable, personalized and connected living.
We did not find any results for ""
Showing results for ""
Please try selecting different categories or use different keywords
Popular events that might interest you
Design and Industry Information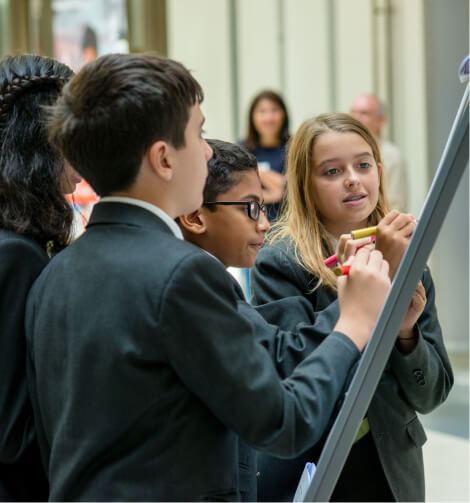 Glimpses into the Processes that Professional Designer Use
These videos provide a view into an architecture studio. Take note of how the critiques are managed and how the students present their work visually. Students' work is self-directed, and they support each other in completing projects.
In this lecture, a designer discusses the human centered design process that her team used to redesign a school cafeteria to reduce food waste.
This documentary depicts Frank Gehry's design process.
Resources for Pitching
Consider showing these videos in the third session, or email them to students as resources to help them prepare their video pitches.
The MENA Design Education Outlook
This is a summary of the report upon which the idea for DIDI Project Design Space was based.